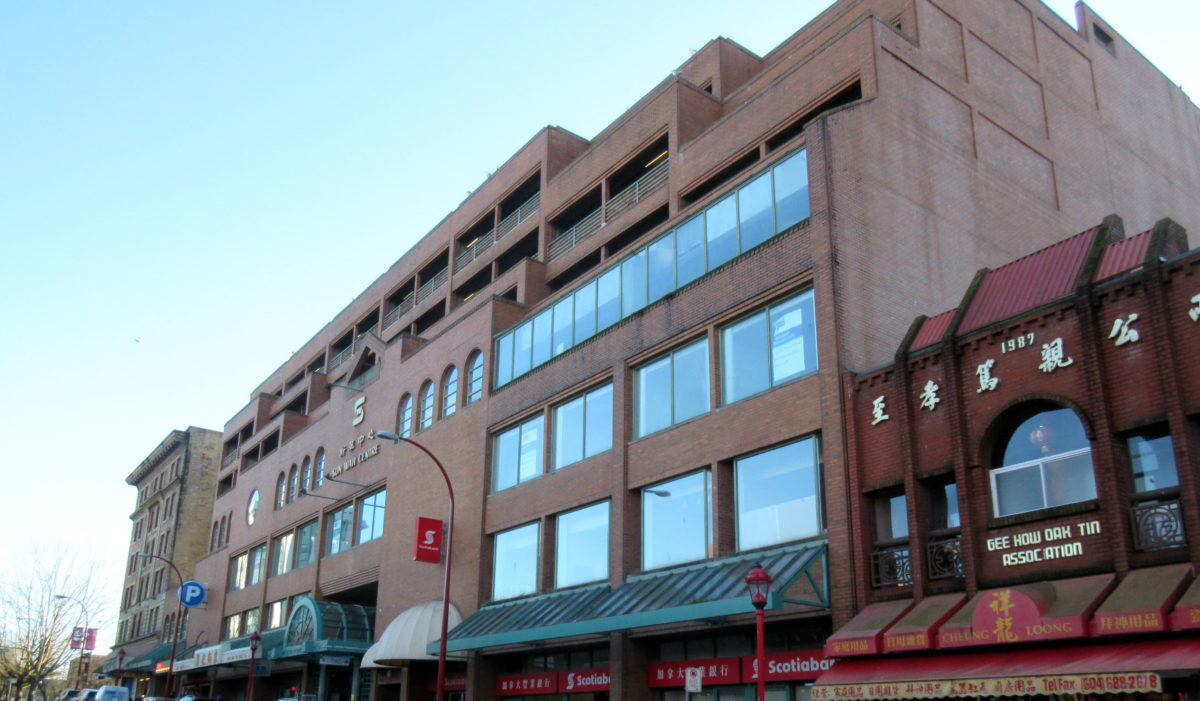 BC Artscape Launches First Project in Vancouver / BC ARTSCAPE在温哥华推出首个项目
November 30, 2016
Vancouver – BC Artscape, the non-profit organization established in 2014 to develop and operate unique cultural spaces in BC has announced its first project in Vancouver.  Lease negotiations are being finalized on approximately 48,000 square feet of vacant space at the Sun Wah Centre at 268 Keefer Street. The building will be transformed into a dynamic, multi-tenant creative hub that meets the need of artists and cultural organizations and responds to the unique neighbourhood around in Chinatown.  Opening in Fall 2017, BC Artscape is looking for partners now to help inform the project vision, design and operation of the space. BC Artscape has released a call to solicit interest from artists, cultural and community organizations and responses are requested by December 23rd, 2016.  More information is available at bcartscape.ca/268Keefer
Chinatown has a rich tangible and intangible heritage articulated in its buildings, businesses, cultural activities, artists and organizations. Chinatown and the surrounding Downtown East Side (DTES) neighbourhoods are undergoing tremendous change that threatens the existing character and sense of place. The goal for BC Artscape Chinatown project is to provide a platform for the arts that complements the existing cultural assets and organizations, and supports the evolving cultural fabric in the neighbourhood.
BC Artscape is undertaking an in-depth community engagement process that begins now and continues throughout the project development and into operations.  The first stage is an open call for potential tenants and program partners. This process is to build a project vision that serves the needs of artists and supports community objectives and helps determine potential tenancies.
There are three Open Houses for potential partners to tour the space and ask questions:
December 2, 2016            OPEN HOUSE #1, 9-11AM, 268 Keefer Street
December 6, 2016            OPEN HOUSE #2, 12-2PM, 268 Keefer Street
December 8, 2016            OPEN HOUSE #3, 5-7PM, 268 Keefer Street
The BC Artscape Chinatown project is one of two under development by BC Artscape in the Lower Mainland.  Find out more on our new website at www.bcartscape.ca.
For more information, contact us at info@bcartscape.ca
---
BC ARTSCAPE在温哥华推出首个项目
即时发布
BC Artscape成立于2014年,是一家在不列颠哥伦比亚省从事特色文化发展和运营的非盈利组织。其最近发布了在温哥华的首个项目:在268 Keefer Street的新华中心(Sun Wah Centre),面积约48,000平方英尺。该中心将被改造成为一个富有活力,可容纳多个租户的创意中心,满足艺术家和文化组织需求的同时与唐人街周边独特的街区交相辉映。预计在2017年秋季正式开业, 其目前正在寻找合作伙伴,帮助制订项目目标、参与设计和运营以及选择未来的租户。BC Artscape也广泛收集艺术家、文化组织和社区组织的呼声,并要求在2016年12月23日做出回应。详情请见bcartscape.ca/268Keefer。
唐人街拥有大量的物质和非物质遗产,如建筑、商业、文化活动、艺术家和相关组织。而现在唐人街和市中心东区附近的社区正经历翻天覆地的变化,威胁到了该地区现有的特色。BC Artscape唐人街项目是为各类艺术搭建一个平台,与现有的文化资产和组织相辅相成,同时支持附近社区相互交融的文化结构。
从现在开始到项目开发、运营,BC Artscape都会与所在社区深入合作。但首先是需要吸引租户和项目合作伙伴。整个过程的目的是更好的服务艺术家并支持所在的社区。
开放参观日并回答问题的时间如下:
开放参观日 #1: 2016年12月2日 上午9-11时, 268 Keefer Street
开放参观日 #2: 2016年12月6日 中午12时-下午2时,268 Keefer Street
开放参观日 #3: 2016年12月8日 下午5-7时, 268 Keefer Street
BC Artscape唐人街项目是该组织在低陆平原(Lower Mainland)开发的三个项目之一。 更多相关咨询,请访问我们的新网站: www.bcartscape.ca
获取更多信息,请联系Genevieve Bucher,联系邮箱: gbucher@bcartscape.ca